4 of the Best Things to Do in Blue Ridge GA in the Fall
Blue Ridge, Georgia is a beautiful mountain town that always has something to do. During the fall, the leaves transform from shades of green to various shades of yellows and oranges. When you stay at our tiny home and RV community, you will be surrounded by the gorgeous fall scenery. To help guarantee you have a great time while you're here, we've come up with 4 of the best things to do in Blue Ridge GA in the fall.
1. Visit Mercier Orchards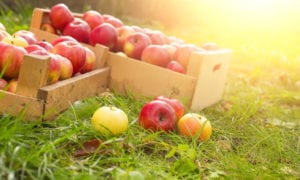 It doesn't get more fall than visiting an apple orchard! Mercier Orchards is an apple orchard in Blue Ridge, Georgia that is one of the top tourism attractions in the entire state! The orchard features a bakery and deli, a market store, and even a winery. During October, visitors can go on a special tractor tour of the orchard! While you're there, be sure to stop by the tasting room and sample some delicious cider.
2. Blue Ridge Scenic Railway
Take in all the sights of the leaves changing colors when you take a ride on the Blue Ridge Scenic Railway! During the fall, take a 26-mile roundtrip journey along the Blue Ridge Scenic Railway that winds along the beautiful Toccoa River. Your adventure begins at the historic depot in downtown Blue Ridge, then stops in the sister towns of McCaysville, GA and Copperhill, TN for a 2-hour layover. That gives you plenty of time to grab some lunch, shop, or walk across the old bridge in town to view the river! There is no better way to explore the area with your family and take in all the gorgeous fall foliage.
3. Make S'mores at Our Tiny Home & RV Community
When the sun goes down, take some time to gather around the fire with your friends and family and make the perfect fall treat: s'mores! When you stay at Waterside at Blue Ridge, you can take advantage of the fire pits around our community to keep warm and roast marshmallows for this tasty snack. Our fire pits are a great place to spend quality time with your family and share stories about your time in Blue Ridge. Other amenities at our community that you can enjoy during the fall include a lakefront clubhouse, a fishing dock and stocked community lake, a community kitchen with a wood fired pizza oven, and so much more.
4. Go for a Fall Hike
To really take advantage of the beauty of fall in Blue Ridge, spend some time outdoors and go for a hike! One of the best trails to hike is the Benton MacKaye Trail, which stretches 300 miles from Georgia to the Smoky Mountains. We recommend hiking the trail to the Toccoa River Swinging Bridge, which is a short and family-friendly hike. Along the hike, you will have gorgeous river views and get to cross over the longest swinging bridge east of the Mississippi River! It is great during the fall because you will journey through a mixed forest of mountain laurel, pine, and deciduous trees.
Now that you know all of the best things to do in Blue Ridge GA in the fall, it's time to plan your trip! Browse the rentals at our tiny home and RV community, then make your reservation today.