Best 6 Reasons to Visit Mercier Orchards in Blue Ridge Georgia
Make your next vacation to Blue Ridge one to remember with a visit to Mercier Orchards! From picking fruit to tractor tours, there are countless possibilities for fun there! To help you see why this attraction is so great, here are 6 reasons to visit Mercier Orchards in Blue Ridge Georgia.
1. Affordably Priced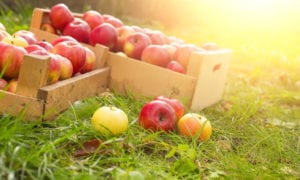 If you're looking for a fun and affordable activity, you should stop by Mercier Orchards in Blue Ridge Georgia to pick your own fruit! It costs $5 per person and $8 for each half gallon of fruit you pick. Children under the age of 2 years old can even enjoy this attraction for free! You'll have a fantastic time knowing you're getting the most for your money.
2. Tractor Tours
You and your family can see all the beauty of this 300-acre orchard when you ride on one of the tractors with a friendly staff member. You'll get to learn all about your surroundings, as well as a little orchard history. The cost is $5 per person, and children under 2 years old get to ride for free. These tours run each weekend from 10 am to 4 pm.
3. Sample Some Hard Cider
Hardpressed cider is available all year round at Mercier Orchards, so you can give it a try any time! It is the only apple orchard in Georgia that can say they grow, press, ferment, and bottle their own products. Tasting flights are $10 per person and include a selection of all of their best products. If you fall in love with a certain beverage, you can even purchase a bottle of it from their store.
4. Delicious Bites at the Cafe
Whether you visit in the morning or later in the day, you can always find tasty treats to eat when you stop by the cafe at Mercier Orchards. The breakfast menu features everything from pancakes and waffles to biscuits and gravy. The lunch menu has a variety of options the whole family is sure to love as well, like soups, salads, and specialty sandwiches.
5. Plenty of Photo Opportunities
There's no better backdrop for a photoshoot than a scenic orchard! You'll have a fantastic time capturing candid pictures of your friends and family spending time together and picking fruit. For some of the best views of the property, you can also snap a few shots during your tractor tour.
6. A Short Drive From Our Campground
If you're still looking for accommodations for your visit, our campground in Blue Ridge is a perfect choice! We are located just a short drive from Mercier Orchards and other fun attractions in town. You'll have a number of different sites to choose from, and while you're here, you can also enjoy our many campground amenities, like our community pool, stocked lake, and more!
Now you know all about Mercier Orchards in Blue Ridge Georgia, it's time to start planning your visit! Be sure to check out all of our tiny homes and RV sites, so you can stay close to all the fun things to do in the area.